WIPO Match Presentation by Mr. Bajoe Wibowo, co-hosted with the Islamic Development Bank
The webinar took place on January 18th with participants including Dr. Bandar Hajjar, President of the Islamic Development Bank (IsDB), Mr. Bambang Brodjonegoro, Minister of Research and Technology, Republic of Indonesia, Mr. Daren Tang, Director General, WIPO, Dr. Hayat Sindi, Senior Advisor to IsDB President for Science, Technology and Innovation, Dr. Ogbonnaya Onu, Minister of Science and Technology, Republic of Nigeria, Mr. Marco Aleman, Assistant Director General of IP and Innovation Ecosystems Sector (WIPO) and Mr. Bajoe Wibowo, Project Manager, Office of Deputy Director General (WIPO)
Presenting WIPO Match to the world
Following with the program of presentation of the WIPO Match platform to the world, in order to acknowledge and understand the importance and vital help in the process of sustainable development and  growth of the different communities around the globe, including least developed (LDCs) and developing countries, WIPO is presenting the WM platform through ongoing scheduled webinars.
In this context, on the 18 January, the Islamic Development Bank (IsDB) co-hosted the event with WIPO Match to promote Intellectual Property IP for a stronger innovation ecosystem.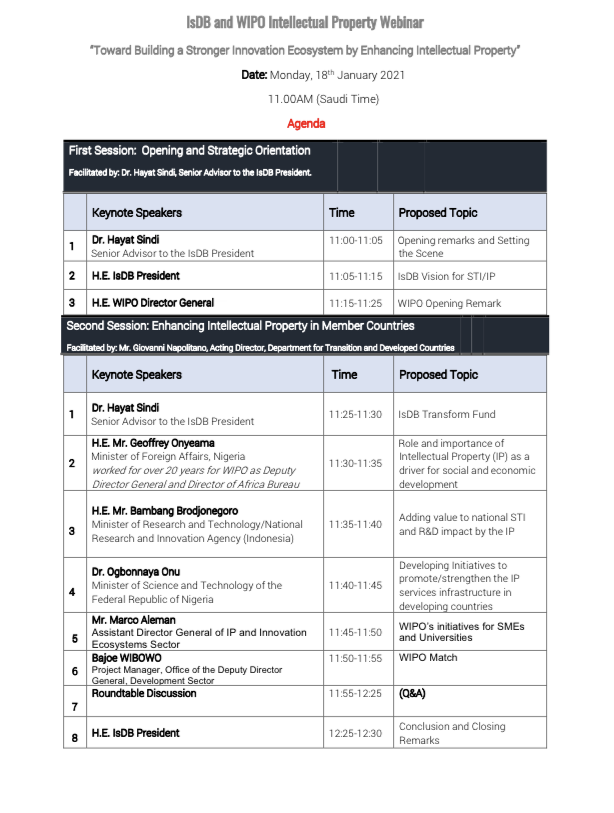 The synergy generated by WIPO Match

WIPO Match is a free online platform used to match seekers of specific intellectual property and innovation related development needs with potential providers offering resources.
The preparation and opportunity are brought together in WIPO Match to create a conducive and trusted environment to amplify the chances for fruitful innovation and technical assistance projects.
WIPO Match is a synergistic amalgam of visions. In this context, the vision of WIPO  is to demystify IP and make it accessible to all IP stakeholders with an inclusive ecosystem where all stakeholders can participate and benefit from it.
The IsDB vision intersects the vision of WIPO in planning a sustainable future with global partnerships, and driving innovation to a value chain development approach . It is notable that IsDB has made available an extraordinary fund of a half billion dollars to spur innovation in their 57 members states with a market of 1,7 billion people. This is a leading example of how a financial institution like IsDB can inspire innovation within the metes and bounds of WIPO.
WIPO Match is the lubricant which facilitates IP-based cross collaborations and the frictionless interaction among the growing members of WIPO Match community (to-date 120 members from 53 countries with different backgrounds as you can see on this slide)
WIPO Match Community
In addition to include the objectives of the various programs/sectors of WIPO, The strength of WIPO Match is that all members have the like-minded  approach to develop a supportive , sustainable and innovative environment towards achieving the SDGs 2030.
In line with this spirit to support global Development, WM is not only part of the United Nations CONNECT 2030 platform which supports Science Technology Innovation (STI), but is also part of the United Nations South-South Galaxy platform which encourages Southern partnerships in the area of innovations
Public-Private Partnerships, South-South and North-South Cooperation and the Sustainable Development Goals bolster all WIPO Match partnerships. Once a Match crystallizes, it does not precipitate out of the conduit, but continues to flow through and nucleates further Matches.
The underpinning of WIPO Match is to ensure that the last link in the  innovation cycle of any project be strong enough towards commercialization. Therefore, in WIPO Match's vision, the engagement of the Private Sector will be crucial to complete this step.
Today with our respective valuable networks and good willingness , if we stand together, we will be not only stronger, but we will also be able to maximize our resources towards delivering sustainable and profitable projects everywhere in the world.
Full webinar below
WIPO Match webinar co-hosted with the Islamic Development Bank
Intellectual Property
Making IP more accessible to all stakeholders with an inclusive ecosystem. WIPO Match.